Let us explore paradise together
Providing Total Land Ownership that is ..
Safe & Secure
Insured, Affordable, Legal
Attractive
Enviroment Friendly
Playa De Oro committed to quality always
Playa De Oro voted
"

The Best Development

"
Playa De Oro voted
"

The Best Development

"

announces Baja San Felipe Magazine
Playa De Oro voted #1 Residential Resort Subdivision in San Felipe, Baja, Mexico. Sun, Sea, Sand, Palm Trees, DSL Internet, and USA title Insurance are cited.
San Felipe, Baja (PRWEB) January 21, 2008 — The 2007 "Best of" survey was held in San Felipe, requesting readers to vote for their "favorites" out of a list of 60 different businesses categories in this Baja California Mexico Community. Playa de Oro captured five of the top honors, taking the #1 "Best Development" title.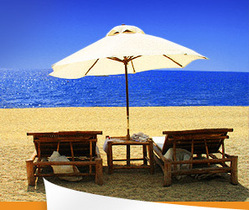 Beach Lounges
In addition, located in Playa de Oro's Plaza is the #1 voted "Happy Hour" establishment, "Jimmy's Bar & Grill" along with their #1 Band "Agave Blues", plus the # 1 "Sundance" Market and Deli, and #1 "Sand Rail Pizza".
This #1 gated community along with its sister community, Playa San Rafael, is located on the Sea of Cortez and only a two-hour drive from the U.S. border. Offering ocean-front living and spectacular views, 24/7 security, underground electricity, city water, private beach access, hilltop dining with #1 band entertainment, resort pools and spa, and commercial areas, these unique resort communities are the safest and finest living in the San Felipe area. Plus, having issued 100s of individual lot titles to American citizens thru Fideicomisos, they are a proven quantity providing true irrevocable ownership to their buyers.
Developed by Americans, these affordable residential resort communities are the best and safest purchase in the Baja. To quote First American Title Insurance Co, "Playa De Oro is one of the cleanest and best properties for sale in Mexico". American buyers would never purchase property in the U.S. without title insurance and prudent buyers demand the same in Mexico. Therefore, the developer provides individual title insurance policies issued through First American Title Ins. Co. on every property purchased. Combined with all the other features and amenities, this safety net is certainly one of the reasons why Playa de Oro was voted #1 in San Felipe real estate.
###
San Felipe – an attractive Venture Opportunity
Playa de Oro provides a front row seat to what Jacques Cousteau called,
"

the aquarium of the World

"

, which is the Sea of Cortez.
Sea of Cortez: The nutrient-rich marine environment shelters the planet's highest whale diversity, nearly 900 species of fish and 34 marine mammal species–82 percent of all those found in the Pacific Northwest. Its more than one million acres of mangroves and coastal lagoons provide a critical nesting ground for hundreds of resident and migratory species.
San Felipe is poised on the pinnacle of a development and tourism explosion. Join with us as we ensure this growth is done responsibly.
Natural Assets: Perched on the northwestern shore of the beautiful Sea of Cortez, San Felipe lays claim to miles and miles of pristine white sand beaches, and has the majestic San Pedro Martyr Mountains to its back. An ecological biosphere, The Sea of Cortez is the largest protected whale sanctuary in the World and the mouth of the sea is patrolled and protected by Mexican, USA, and Green Peace Ships.
Modern Amenities: A new trauma center complete with state-of-the-art diagnostic capabilities including –
Laboratory, surgical wing, and full-care facilities;
Ambulance and airlift for those wishing or needing immediate U.S. medical care;
Excellent pharmaceutical prices
Being a tourist town, the local people welcome the many outsiders that come into town each year and most speak some English. There are numerous recreational and social pursuits to provide an active retirement lifestyle. Life is so comfortable here that many transplants now consider San Felipe their main home.
The foresight of PARKSTRONG in developing their land into an environmentally-friendly subdivision, making it a reasonable and affordable investment, and ensuring a safe and secure community puts Playa de Oro and San Felipe on the charts for venture opportunity.
At a recent developers meeting the Mexican EPA, Profepa, announced that Playa de Oro was the only development in San Felipe that was following all the environmental rules!
As an investment, great vacation haven, or an affordable retirement alternative, Playa de Oro –